First Announcement
3rd International Conference
"Current Trends in Cancer Theranostics" (CTCT-2017)
June 25-29, 2017
Pakruojis Castle, Lithuania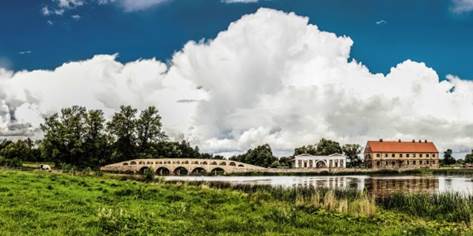 We are pleased to announce the 3rd International Conference "Current Trends in Cancer Theranostics", which will be held on June 25-29, 2017 in Pakruojis Castle, Lithuania.The main aim of CTCT-2016 is to learn about and share the progress regarding advanced and integrated solutions for bio-imaging and therapy based on nanomaterials. The integration of novel nanoparticles into the biomedical environment has potential to yield highly efficient and cost-effective cancer theranostics. The proposed conference demands multi-disciplinary cooperation between physicists, material scientists, biophysicists, biochemists, physicians and device engineers, and offers excellent possibilities for the translation of innovative solutions into clinical therapies. The main focus of the conference is innovative solutions and novel nanomaterials which can enhance the anticancer therapy efficacy and reduce the healthcare costs.

The meeting will be focused on the following sections:
Section 1: New Biomaterials for Cancer Theranostics - Drug Delivery Agents
Section 2: Tumor Visualization – New ways in Cancer Diagnostic
Section 3: Cancer Therapy - New ways in Cancer Therapy
Thematic Sessions:
• Upconverting nanomaterials for biomedical applications
• Baltics -Japan symposium on nanomedicine (under consideration)
Preliminary Conference Program
Conference Fees
Early

until 31.03.2017

Regular

until 05.06.2017

On site

Scientists

250 €

350 €

450 €

Students

100 €

150 €

200 €
Important Dates
Deadline for abstract submission: 29.04.2017
End of online registration:16.05.2017
Highlights
• The best poster competition
• All accepted papers can be published in a peer-reviewed special issue of Beilstein Journal of Nanotechnology (IF: 2.778) free of charge
• Travelgrants for a few young scientists from the developing countries will be awarded
Call For Papers
Please find all relevant information in the Conference Announcement Letter below.
Previous Meetings
1st International Conference "Current Trends in Cancer Theranostics CTCT-2015" held on June 1-3, 2015 in Jena, Germany http://nanophoto.de/index.php?id=143 and 2nd CTCT2016 Conference held on June 19-23 in Druskininkai, Lithuania http://nanophoto.de/index.php?id=202.
We are looking forward to meeting you in Pakruojis and hope that you will take this opportunity to integrate with other participants and start a scientific dialogue and cooperation. We also feel confident that you will enjoy both our scientific program and the welcoming atmosphere of Pakruojis.