FREE TIME POSSIBILITIES IN "PUŠYNAS" AND DRUSKININKAI
SPA treatments at the hotel
Unique Dead see water bath nd mud Therapy:
Hotel "Pušynas" SPA center in Druskininkai, located in the hotel "Pušynas", was only in the resort that suggested their guests real Dead Sea water and mud Therapy. This healing water and mud delivered from Israel.
A unique therapy of Dead Sea water and mud bath, during which the body receives all the necessary minerals, relaxes muscles, calms the nerve system, and accelerates the metabolism of cells. The Dead Sea - is the only place in the world where the quantity of minerals is sufficient enough to have a real impact on the human body.
The procedures for the formation of body contours and silhouette modeling:
Anti-cellulite treatments for a perfect figure with the structure NANO (with volume decrease complex): Reduces the volume, removing excess fluid from the body; Intensively nourishes the skin and prevents premature aging of the skin.
Cosmetic procedures for face and body:
Basic skin care procedure for the face, Face masks, mesotherapy, paraffin therapy, and many other cosmetic procedures.
SPA massages:
Face massage; Indian head massage; Hot Stone Massage (whole body); Massage of the whole body (classical, aromatherapy, relaxing, Anticellulite); Lymphatic drainage massage legs and buttocks; Anti-cellulite massage of the abdomen and buttocks; Back massage with honey; Chinese back massage vacuum banks; Kerala Ayurvedic massage; Massage parts of the body: arms, legs, neck, head, back, feet; Massage for children (od 4 years).

Druskininkai Aqua Park (350 m from the hotel)
Tropical 32-degree heat, 9-metre-tall palm trees, clear blue swimming pools, 22 saunas and bathhouses set up according to the traditions of different countries around the world, exotic massages - all this sounds like a magical vacation thousands of miles away... But this is not a fantasy: it is a dream you can realise in the south of Lithuania, at Druskininkai Aqua Park.
In the aquatic entertainment area, visitors can enjoy 6 open and closed slides and a swimming pool area under a massive dome, with a wonderful view of the River Nemunas. After trying out the ultimate 212-metre-long slide and fighting the waves in the sea-wave pool or the swift river, adrenalin seekers can regain their energy in the resting area, whirlpool baths and water cascades or plunge into the pleasures of the bathhouses.
The unique bathhouse area welcomes all who are tired of routine, with as many as 20 different bathhouses and saunas. Every day, you can revel in bath programmes with ecological honey, salt from the Black Sea, facial masks, scents and oak or birch bath brushes. Additional bath programmes are organised for nudists only at weekends. The bathhouse area can only be entered by adults (aged over 18), so this is a true oasis of rest where noise and exuberant chatter are replaced by tranquil relaxing music and active entertainment by passive rest. Once out of the bathhouse or sauna, you can refresh your hot body by immersing yourself in a 'music pool', dousing yourself in ice-cold water from a wooden tub, trying a special bathhouse tea or choosing from a range of exotic cocktails at our 'wet' bar.
Address: Viniaus ave. 13, Druskininkai
Monday - Thursday: 12.00 - 22.00
Friday: 12.00 - 23.00
Saturday: 10.00 - 23.00
Sunday: 10.00 - 22.00
Price: From 10 €
WINTER FUN ALL YEAR ROUND AT SNOW ARENA (4 KM FROM THE HOTEL)
It is the only winter sports complex in the Baltic States that is open all year round. For several years in a row, Snow Arena has been one of the top five best winter sports complexes in the world.
Snow Arena has 2 indoor alpine skiing and outdoor skiing tracks. The Arena is modern venue, covered with high-quality snow, which is made without chemicals and bacterial additives.
The Arena offers safe and comfortable Swiss lifts. At the rental point, you can hire all the equipment and gear necessary for skiing. The modern time counter at the Arena and a loyalty programme allow you to enjoy your favourite recreational activities for longer and at a lower cost.
One of the largest attractions at the Snow Arena is the Snow Park. Its features are replaced monthly according to the newest style trends, and are designated for the performance of various tricks. Visitors are also offered a chance to learn and improve their skiing skills together with professional instructors from DruSkiSchool, the alpine skiing and snowboarding school. As well as skiing, different events regularly take place in the restaurants found at the arena, including wine tasting, DJ nights, competitions and night skiing sessions. There is also a large play area for the children − DruFunPark.
Snow Arena is a recreation complex where, regardless of age or skills, everyone is able to discover entertaining and fun activities.
http://www.snowarena.lt/en/home
Address: Nemuno road 2, Mizarų kaimas
Monday - Thursday: 12.00 - 19.00
Friday: 12.00 - 22.00
Saturday: 10.00 - 22.00
Sunday: 10.00 - 18.00
Price: Skiing ticket prices from 16 Eur, Equipment from 5 Eur

M.K.ČIURLIONIS MEMORIAL MUSEUM
It is memorial museum of M.K. Čiurlionis. Čiurlionis contributed to symbolism and art nouveau and was representative of the fin de siècle epoch. He has been considered one of the pioneers of abstract art in Europe. During his short life he composed about 400 pieces of music and created about 300 paintings, as well as many literary works and poems. The majority of his paintings are housed in the M. K. Čiurlionis National Art Museum in Kaunas, Lithuania. His works have had a profound influence on modern Lithuanian culture. The asteroid 2420 Čiurlionis is named after him.
www.ciurlionis.lt/m-k-ciurlionis-memorial-museum-exposition
Address: M. K. Čiurlionio g. 35, LT-66164 Druskininkai
Tuesday to Sunday: 11.00 - 17.00
Price: Adults 1.50 €, Children and Students 0.75 €
Excursion (Foreign language): 12 €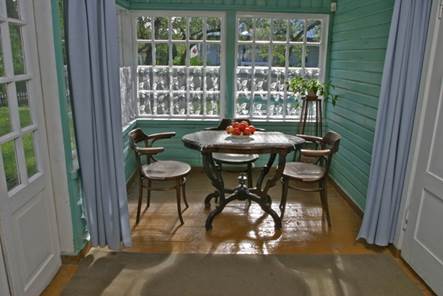 SCULPTURE AND LEISURE PARK OF ANTANAS ČESNULIS
At a distance of 3 km from Druskininkai, there is Naujasodė village, a place where a folk artist and wood carver Antanas Česnulis has lived over 30 years. His country house at a picturesque Ratnyčėlė stream is an open air museum of wood carvings. At the entrance the visitors may explore a four storey windmill displaying the wood carver's works. If you go to the coastline of Ratnyčėlė stream, you will have a chance to see a unique collection of the Men of Sorrows created by Lithuanian folk artists. Stone wall niches serve as a museum for the Men of Sorrow brought from all over Lithuania. The stream bank is an open air exhibition of sculptures under the name "Man's and tree's life" featuring a unique combination of natural beauty and wood carvings. Visitors may also get acquainted with theatre characters. A final accent of this exhibition is a large summerhouse with tables. It displays sculptures "Duonos kelias" ("Birth of bread"). The exposition is constantly renewed by new creations.
Address: Naujasodės village, Druskininkai municipality
Daily 9.00 - 21.00
Price: Adults 3 € Students, juniors and seniors 2 €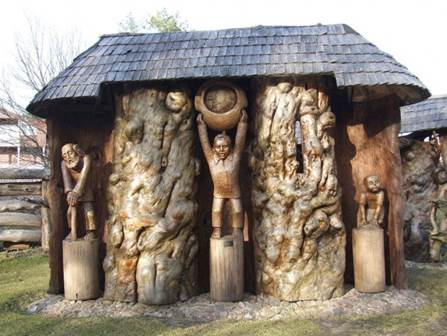 THE GRŪTAS PARK
From 1989-91, during the restoration of Lithuanian independence, many ideologized monuments from the Soviet times were dismantled and, with the absence of any storage procedure, piled in storehouses and backyards, most frequently on the premises of utility companies. Thanks to such "preservation", many monuments were damaged (some of them "suffered" during dismantling while others caught the eye of metal traders, etc.), and eventually could have been totally destroyed, as happened in the neighbouring republics. A strong argument for choosing this undertaking was that its manager, Viliumas Malinauskas, was planning to establish the exposition using private funds earned from his family's mushroom and berry business without asking for financial support from the state. The project submitted for tender also stressed the importance of the new tourist site for the development of this region in Southern Lithuania. There are Soviet sculpture exhibition, museum, picture gallery, Luna park, Mini zoo and cafe.
Address: Grūtas, 66441 Druskininkai
The park is open daily 9.00 - 22.00
Bus schedule from Druskininkai bus station to the Grūtas Park:
Bus No.2 via Viečiūnai village to the Grūtas Park.
Monday to Friday : 7:20 12:05 15:10 (Saturday also) 17:05
Sunday: 11:10 12:16
The Grūtas Park is 5 km from Druskininkai.
Price: Adults 6,00 €, Children under 6 Free Children and teenagers under 16 3,00 €, Audioguide 13,30 €

GIRIOS AIDAS FOREST MUSEUM / TRAINING AND INFORMATION CENTRE
In a lodge house of an original architecture and a surrounding forest, works of wood carving, smithery, ceramics and amber, rare species of Lithuanian trees are exposed. From 1976, professional artists from all Lithuania keep organizing plein airs and creative workshops here. Their works enabled creating a real park-gallery in the territory of the Museum: here you will see characters of a popular Lithuanian fairy tale "Eglė žalčių karalienė" (Eglė the Queen of Serpents) - the mother Eglė (Fir), her sons Ąžuolas (Oak), Uosis (Ashtree), Beržas (Birch) and a daughter Drebulė (Aspen), the serpent Žilvinas' sculpture, triptych on the topic of Hunting (Hunter, Feeder, Bird protector), a sculpture of St. Florian, patron of fire-fighters, Bears' bench with a honey barrel, a Bear and Woodward, Dwarfs, Witch, etc. From the newest creations it is worth mentioning the monumental oak carving work of Lithuanian sculptors dedicated to the millennium of Lithuania.
http://www.dmu.lt/index.php?id=1769
Address: M.K.Čiurliono st. 116
Tuesday - Sunday 10.00 - 18.00
Price: Adults 2 € Students, juniors and seniors 1 €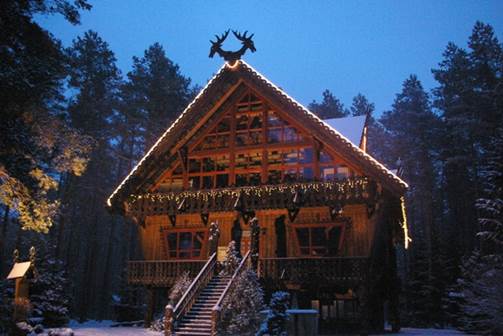 THE GALLERY OF V.K JONYNAS
Vytautas Kazimieras Jonynas (1907 - 1997) - a Lithuanian graphic artist, painter, sculptor, creator of stainedglass, one of the most prominent Lithuanian artists of 20th century, who worked for a long time in Germany and the USA. Most of his works were moved to Lithuania by V. K. Jonynas himself. The major part of these works is exposed in Druskininkai V. K. Jonynas gallery-house where the painter lived for a long time. The gallery exhibits his drawings, graphics, paintings and stained-glass projects. Photographs and films show the most valuable interiors of churches and works of monumental architecture created by the artist.
Address: M.K.Čiurlionio st. 41
Tuesday - Sunday 11.00 - 17.00
Price: Adults 1.16 € Students, juniors and seniors 0.58 €
NEMUNAS RIVER TRIPS
Excursion with ,,Holiday Boat Druskininkai"
Excurtion duration 1 h
Everyday 13.00 and 14.30
Address: Druskininkai town dock
Saturday - Sunday 12.00, 13.00 and 14.30
Price: Adults 7.24 €, children under 5 years - free
Excurtsion with Catamaran

Excurtion duration 3.5 h
Address: Vilniaus ave. 7A
Price: from 7.24 €
For more information contact +370 686 15814
Excursion with boat ,,Druskininkai"
Excurtion duration 3 h
Address: Druskininkai town dock
Destination: Druskininkai - Liškiava - Druskininkai
Tuesday - Sunday 14.30
Price: Adults 11 €, children under 16 - 5.5 €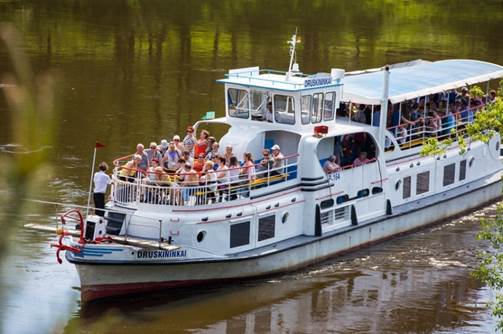 CABLEWAY IN DRUSKININKAI
The route connects Aqua Park and Snow Arena. It is roughly 1km long and the trip takes 4-5 minutes. From the hight of 45 metres it is also serve as a great place for panoramic views of Druskininkai. This eco-friendly transport solution reduce CO2 emissions in Druskininkai by 1433 tons in coming 25 years. While ascending admire the surrounding area of the resort and the Nemunas bends from 45 meters!
Address: Vilniaus ave. 13, Druskininkai
Monday - Thursday 10.00 - 20.00
Friday - Sunday 10.00 - 22.00
Price: Adults: One way ticket 3 €, to both sides 5 €, Children from 5 to 18 years: One way ticket 2.70 €, to both sides 4.50 €.
RESTAURANTS
· Forto dvaras (M.K. Čiurlionio st. 55; Druskininkai; www.druskininkudvaras.lt) Cuisine: European, Eastern European, Central European TripAdvisor rating 4.5/5, TripAdvisor Certificate of Excellence
· Sicilija (Taikos st. 9, Druskininkai; www.sicilia.lt) Cuisine: European, Pizza, Mediterranean TripAdvisor rating 4.5/5, TripAdvisor Certificate of Excellence
· Sicilija (M.K. Čiurlionio st. 56, Druskininkai; www.sicilia.lt) Cuisine: European, Pizza, Mediterranean TripAdvisor rating 4.5/5
· Toli toli (Vilnius ave. 8, Druskininkai; www.facebook.com/tolitolidruskininkai) Cuisine: European, Eastern European, Middle Eastern, Vegan, Mediterranean, Fusion TripAdvisor rating 4.5/5
· Keturi Vėjai panoramic restaurant (8th floor of Lietuva Hotel V. Kudirkos st. 45, Druskininkai; grandspa.lt/laisvalaikis/restoranai-kavines-barai) Cuisine: European TripAdvisor rating 4.5/5
· Velvetti (Vilnius ave. 16, Druskininkai; www.facebook.com/velvetti/) Cuisine: Pizza, European, Wine Bar TripAdvisor rating 4.5/5
· Dangaus skliautas (Kurorto st. 8 Druskininkai; www.facebook.com/Dangaus-Skliautas-180769697443) Cuisine: Italian, European TripAdvisor rating 4.5/5
· Ville de Sel (Vilnius ave. 2A, Druskininkai; www.facebook.com/villedesel) Cuisine: European, Central European TripAdvisor rating 5/5
· The House (M.K. Čiurlionio st. 61, Druskininkai; www.thehouse.lt) Cuisine: American, International TripAdvisor rating 4/5
· Kolonada (V.Kudirkos st. 22, Druskininkai; www.druskininkukolonada.lt) Cuisine: European, Central European TripAdvisor rating 4/5