Iuliu Hatieganu University of Medicine and Pharmacy&Ion Chiricuta Comprehensive Cancer Center, Cluj Napoca/Romania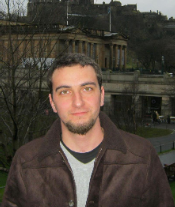 Dr. Med. Ciprian Tomuleasa
Iuliu Haţieganu, University of Medicine and Pharmacy
8 Babeş Street, 400012 Cluj-Napoca, Romania
Email: ciprian.tomuleasa(at)umfcluj.ro
Iuliu Hatieganu University of Medicine and Pharmacy (UMF CN)
UMF CN is the oldest university which medical profile in Transylvania and one of the most valued in the country. The research and teaching activities of the university are interlinked since its foundation. UMF CN is one of the most rapidly growing medical schools in the field of research, which now focuses in a broad spectrum of research fields like: translational research, clinical studies, functional studies, genomics, proteomics, advanced imaging techniques, - including molecular imaging, nano-medicine, nano-materials, biomarkers, biotechnology, pharmacology, drug development, development of novel (noninvasive) diagnostic tools, public health, mental health.
Comparative analysis of areas that are considered priority and invested in by research grants by the year 2010 showed that, although much has been invested in research with direct clinical application in traditional clinical areas (oncology, hematology, cardiovascular disease, public health, mental health), university priority is to invest in the future, fundamental research considered top priority at national and European level (tumor genesis study, genomics, molecular medicine, pharmacology).
Through the state budget programs and also through European Commission funds, in period 2010-2011, our university has implemented a number of 149 research grants as coordinator and partner, from which 6 FP7 projects. The projects implemented are through three main sources of financing: State budget through PNCDI I, CEEX and PNII; European research programs; (Framework Programs 6 and 7, DG SANCO program, eContentplus, EAHC and other European research programs); Structural Funds (POSCCE, POSDRU). In November 2011 UMFCN had a total of 830 teachers in which more than two thirds conducts part-time research activities in research projects. This university will take part of the current grant proposal together with the Fundeni Clinical Institute (FCI), under the patronage of the Academy of Medical Sciences, an active presence in the medical field that promotes and supports clinical, fundamental and translational research, in which its personnel has accumulated extensive experience. It is also a comprehensive cancer center of national public interest, which provides preventive, curative and palliative medical services in the field of oncology. The mission of the Fundeni Clinical Institute is to actively contribute to the decrease of the effects that cancer has in our country, and this led to the implementation of several projects that deal with patient care, prevention, research and the continuous education of all professionals involved, as well as of the patients and public. Aside from patient care, scientific research is a big part of the activity of FI. The main areas of interest are related to cancer etiology, molecular mechanisms and elements that signal and contribute to the evolution of the disease, and the discovery and development of new therapeutic targets, while some of the main research directions are: to promote excellence in research, to discover new research domains in the fight again cancer, starting with understanding the human genome and the genetics of malignant cells and continuing to the pursuit to identify new diagnosis methods and markers.
A state of the art research facility Research Center for Functional Genomics, Biomedicine and Translational Medicine is available at the University of Medicine and Pharmacy Iuliu Hatieganu from Cluj Napoca. The Research Center has a total dedicated area of 1400 sqm, the organization of the Center being developed as a unit for fundamental and translational research. It has all the state of the art technologies.