Biophotonics Group, Oulu University, Oulu/Finland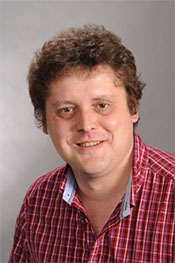 Prof. Dr. Igor Meglinski
Biophotonics group
Optoelectronics and Measurement Techniques Laboratory
Faculty of Information Technology and Electrical Engineering, University of Oulu
P. O. BOX 4500, FIN-90014 Oulu, Finland
Email: igor.meglinski(at)ee.oulu.fi
Description and scientific profiles of the group
Biophotonics research in Optoelectronics and Measurements Techniques Laboratory has more than a 15-year-long history. The Biophotonics group is a member of Oulu BioImaging consortium, which, in turn, is an associated partner of Euro-Bioimaging infrastructure network.
The group comprises about 10 people, a team of engineers, physicists and cell biologists. Both doctors and postgraduate students form the committed team.
We employ different optical experimental techniques for biomedical purposes. We fabricate tissue-mimicking phantoms with capillary structures, perform Monte Carlo simulations of light migration in tissue to support experimental research and estimate alteration of skin properties by administration of nanoparticles. We apply optical coherence tomography, spectrophotometry, time-of-flight, refractometry, optical profilometry, near-infrared spectroscopy, optical tweezers and photoacoustics to image surface and subsurface biotissue structure; to sense glucose in blood; to manipulate microparticles and red blood cells and to study interaction forces between them; to visualize flow velocity profiles of biological liquid (blood, protoplasm); to monitor brain activity.
For the research, a range of optical and complementary equipment is used: spectrometers and a refractometer, a variety of lasers (CW and pulsed), optical coherence tomographs, spectrometers for different wavelength ranges, a streak camera, optical and electron microscopes, optical tweezers, photoacoustc devices, and small laboratory equipment (a sonicator, a centrifuge, an oven dryer, scales).
From left to right: Prof. Igor Meglinski (Head of Laboratory), Prof. Esko Alasaarela, Dr. Alexander Bykov, Dr. Matti Kinnunen (Docent), Dr. Teemu Myllylä

From left to right: Dr. Janne Lauri, Dr. Alexey Popov (Docent), Dr. Hannu Sorvoja, Dr. Zuomin Zhao