Faculty of Chemistry, Vilnius University, Vilnius/Lithuania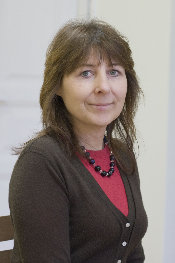 Prof. Dr. Aldona Beganskiene
Department of Inorganic Chemistry
Faculty of Chemistry, Vilnius University
Naugarduko Str. 24, LT-03225 Vilnius, Lithuania
Email: aldona.beganskiene(at)chf.vu.lt
Main Research Focus
The main research group focus are on new inorganic materials, nano-structures and functional surfaces including synthesis, characterization and related technology development. Synthesis, characterization and applications of silica and upconverting nanocrystals (such as NaYF4: doped with rare-earth elements) and its composites, surface modification and their application for biomedical imaging. Also, sol-gel synthesis and investigations of inorganic-organic hybrid materials, advanced nano-materials (luminescent and optical materials, biomaterials as biocompatible ceramic and bioactive surfaces for biotechnology application.); nanostructural materials; surfaces and interfaces. Our research interests also include investigation of functional materials surface and coatings; development of aerosol-pyrolysis technique for oxide films. Additionally research is focused on the relation between molecular structure of the precursors (and the synthesis parameters that determine these properties) and the structural and macroscopic properties of the optical materials or biomaterials.
Research Infrastructure and Equipment
X-ray diffractometer (D8 Advance, Bruker) with grazing angle, knife edge and heating chamber (up to 1100°C) stages; Ultra-high-resolution analytical FE-SEM (SU70 with EDS and EBSD and turbo-sputter, Hitachi); Thermal analyser containing differential scanning calorimeter and thermogravimetric analysis (units containing STA6000 TGA/DSC, Pyris1 TGA and Clarus 600T GS/MS, Perkin Elmer); Glove box with purification for product protection (GP (Concept) T2, Jacomex); Ellipsometer (M-2000, J.A. Woollam Co); FT-IR spectrometer (Frontier FT-IR, Perkin Elmer); Surface area analyser (TriStar II 3020, Micrometrics); Tensiometer (BP100 and K100/MK2, Kruss GmbH); Fluorescence spectrometer FLS 980 (Edinburgh Instruments) equipped with mirror/lenses optics, cryostat (80-500K), integrating sphere, CW/pulsed NIR lasers, VUV lamp, Xe continuous and flash lamps as excitation sources. Detection range cover 250-1400nm with polarization possibility; Scanning near field optical microscope with AFM and Raman modules (Witec Alpha 300 RAS); spin-coater with automatic dispensers (Laurell WS-650Hs-8NPPs); dip-coater (Holmar); contact angle unit (KSV Instrument CAM 200), Schlenk line; hydrothermal synthesis reactors; supercritical dryers; high temperature furnaces.
Projects and Grants
Researchers participated and conducted several Research projects on optics, biomaterials and coatings with funding from the National Grant from Lithuania and the European Framework Program and other fund.
Integrated Project within European Sixth Framework Program "Cell Programming by Nanoscaled Devices" (CellPROM) (2004-2007).
National Grant from Science and Education Foundation of Lithuania "Special purpose optical coatings for lasers" (LADA) (2007-2009).
National Grant from Research Council of Lithuania "Micro and nanostructures for micro solid oxide fuel cells" (MIKROKOKE) (2010-2011).
Funded EU project Nr. VP1-3.1-ŠMM-08-K-01-004 "Synthesis and spectral characterization in wide spectral range of novel materials relevant to semiconductor- and nano-technologies by means of steady and ultrafast spectrometry"(2012-2015)
National Grant from Research Council of Lithuania" Study of optical properties and biocompatibility of Na(Gd/Y)F4 nanoparticles" (No MIP-030/2014).
From left to right: PhD student Dovilė Baziulytė, assoc. prof. Simas Šakirzanovas, PhD student Ieva Mikalauskaitė, PhD student Jurgis Pilipavičius, prof. Aldona Beganskienė