Home
NanoPhoto: Nanotechnology meets (Bio)Photonics
Photonics and Bio-photonics related businesses are currently growing at a breathtaking pace thereby comprising one of the fastest growing sectors of innovative economy. This scientific sector is truly interdisciplinary including very prominently the development of novel nanomaterials, light sources or novel device/equipment concepts to carry out photon conversion or interaction.
The main goal of "NanoPhoto" is to bring nanotechnology and biotechnology specialists from Baltic Sea region and Russia together and to start scientific dialog between neighboring countries. Our interest in bringing together the research network 'NanoPhoto' is the development and testing of novel nanostructure such like bio-ceramic/bio-glass, bio-silicon or classical semiconducting quantum dots based materials for cancer research (like labeling of living cell and cancer therapy). Here, we will have a focus on the development of different nanostructures that most efficiently permit to develop novel knowledge for cancer research. The partners involved in "NanoPhoto" from several Baltic Sea states and Russia are all from the areas of materials science, physics, chemistry and biochemistry and are thus most ideally suited to develop the aforementioned materials and devices for bio-photonic applications.
The anticipated benefit from "NanoPhoto" for the partners as well as for the region and potential companies investing in this region are multifold essentially based on exchanging ideas and carrying out joint research and development of basis for Horizon-2020 EU-Projects and human exchange in bio-photonics related research area.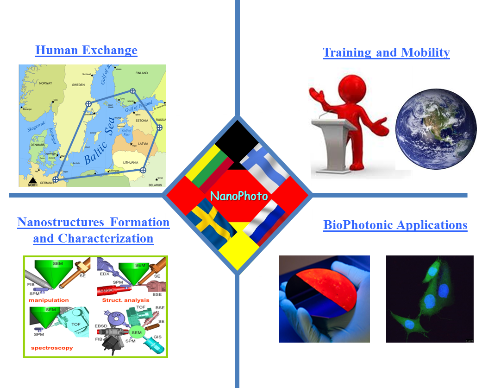 CTCT-2017 is organized by